allowfullscreen webkitallowfullscreen mozallowfullscreen frameborder='0'>
"Reporting the SDG Impacts of Global Business Schools"
SDG Dashboard's Vision
---
The SDG Dashboard is a collaborative data reporting and analytics platform for global business schools to share their best practice impacts on the United Nations Sustainable Development Goals (SDGs) and transform business education into a force for good.
The United Nations' 17 Sustainable Development Goals (SDGs) and 2030 Agenda are global "plans of action for people, planet and prosperity." SDGs include ending poverty, protecting the planet, ensuring peace, fostering prosperity, promoting innovation, addressing climate change, fostering health and well-being, and eradicating economic and gender inequality among other priorities. Increasingly, business schools are strategically engaging the SDGs and PRME is leading the way with its Vision 2030: "Realising the Sustainable Development Goals through responsible management Education." Also, AACSB International's vision is "to transform business education for global prosperity. Business and business schools are a force for good, contributing to the world's economy and to society…" and AACSB's mission: "As a result, business education will have a positive impact on business and society − and AACSB will amplify that impact. In achieving its mission and vision, AACSB will emphasize and model the following values: Quality, Inclusion & Diversity, a Global Mindset, Ethics, Social Responsibility, and Community."
The SDG Dashboard is a new reporting, visualization, and data analytics tool for PRME and other global business schools to showcase their contributions toward advancing the 17 United Nations Sustainable Development goals (SDGs). Aligned with the PRME Principles, the SDG Dashboard shares business schools' SDG-related best practices in Teaching, Research, Partnerships, Dialogue, and Organisational Practices. The purpose of the SDG Dashboard is to provide a shareable, robust, and useful resource for business schools to enhance their impact on fulfilling the SDGs.
If you are interested in learning more about how to get started with your institution's own SDG Dashboard, please email us here: SDGdashboard@gmail.com
Thank you for your interest in the SDG Dashboard!
SDG Dashboard Team, Haub School of Business at Saint Joseph's University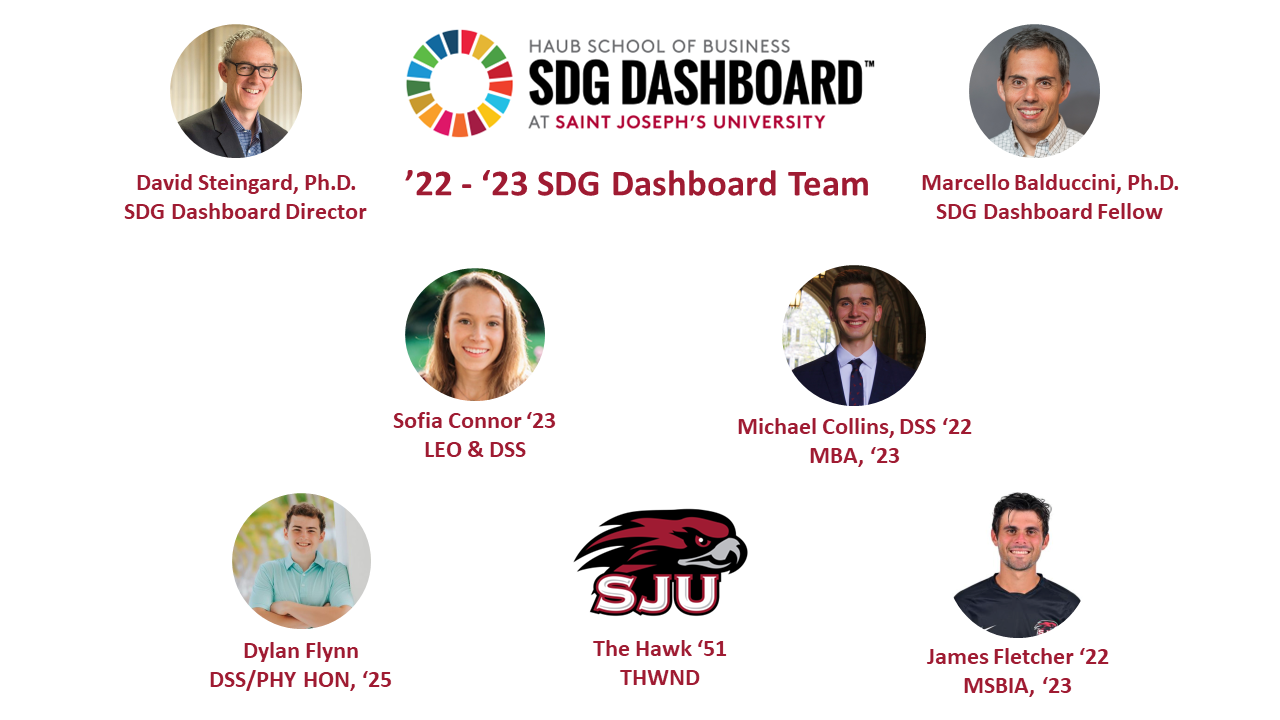 "UN Sustainable Development Goals Dashboard Gets a Spotlight at Davos"
Climate change took center stage at the recent World Economic Forum in Davos, Switzerland, which brings together government leaders, academics and entrepreneurs to discuss the key issues, risks and challenges facing the world in the coming years. The panel, held on January 23, was part of the UN SDG Media Zone, an initiative brought to Davos to mark the 20th anniversary of the UN Global Compact.

Among the experts talking about the SDGs at Davos was Saint Joseph's University Associate Management Professor David Steingard, Ph.D. As part of a panel on the role of the SDGs in higher education, Steingard discussed a data analytics tool, the SDG Dashboard, that he and colleagues at Saint Joseph's developed to measure institutional progress toward the SDGs.
"Davos is viewed as a space for unveiling global innovations to improve the world, like massive global vaccine initiatives, and this year, of course, transformative capitalism for good," Steingard says. "Featuring the SDG Dashboard in this milieu helped contextualize our work as contributing to the complex and oftentimes vexing issues of our time."
At Davos, Steingard discussed the importance of teaching sustainability principles to future leaders alongside fellow panelists Ann Rosenberg, senior vice president for UN partnerships at SAP and global head of SAP Next-Gen; Christoph Meinel, president and CEO of HP; and Mette Morsing, UN Global Compact senior adviser. Steingard also shared the SDG Dashboard with many academics at a PRME event. Overall, he says there was "tremendous receptivity" to the tool.

Read more here.